You are warmly welcome to join us at St Leonard's. We enjoy a variety of worship.
Our main service is held in-person at St Leonard's at 9.45am each Sunday and live-streamed through our facebook page. If you would like to attend St Leonard's in person on a Sunday, please just turn up. We are continuing to wear face masks in St Leonard's building and use the NHS Test & Trace QR code. Please wrap up warm because the church is very well ventilated.
For those joining by live-stream our orders of service can be found and downloaded HERE. Our latest weekly prayer and diary and news sheet can be found HERE – this details our pattern of services. Our latest Parish Magazine can be found HERE.
At present our worship pattern is generally as follows: midweek Eucharists are celebrated at St Leonard's at 10am each Wednesday and at 8am each Thursday. On the 1st and 3rd Sundays of each month BCP Holy Communion is celebrated at 8am. On the 2nd Sunday of each month BCP Evensong is sung at 5.30pm. On the 4th Sunday of the month a Eucharist for Wholeness and Healing is held at 5.30pm. There is no need to register for these services, but please wear a face mask and use the QR code.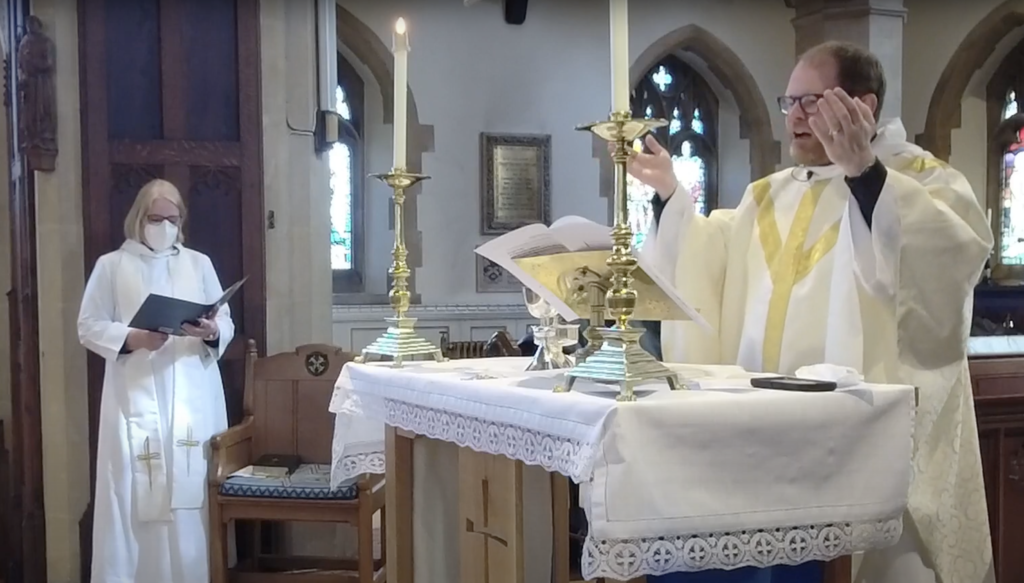 We have a protected social distancing area at the back of the nave, the church is kept well-ventilated, and hand sanitising is requested as you enter and leave our building. You can find our risk assessment here.
Times of services and other arrangements may need to change as we discern the best way forward. Keep an eye on our newsletters, website and social media for updates.
St Leonard's is usually open for individual private prayer on Monday, Tuesday, Thursday and Friday mornings.
WHO MAY ATTEND?
Anyone who is not showing symptoms associated with COVID-19
Anyone who is not self-isolating due to a possible or confirmed case of COVID-19 in their household, or because they have been requested to so by NHS Test & Trace or another official body
WHAT HAPPENS WHEN AT ST LEONARD'S?
Please Enter through the North West (Lexden Road) door, which will usually be opened around 10 minutes before the beginning of each service. Please sanitise your hands as you enter and exit.
Pick up an individual order of service. Please deposit them as you leave.
For now, Holy Communion is received in one kind (consecrated bread) into the hand only
Individual hymn books will be by your seat (please leave these in place at the end of the service)

Please leave the church through the south east extension door (facing Church Lane).
WHAT WE HAVE DONE TO MAKE YOUR VISIT FOR WORSHIP AS SAFE AS POSSIBLE
Following government and Church of England guidance we have completed a risk assessment (which can be read HERE) and are maintaining the following measures:
Face coverings are worn (unless exempt) at all times in the Church building
A safe space for those who wish to distance is usually available at the back of the nave, which is the best ventilated part of the church
Those presiding at the Eucharist will take lateral flow tests before doing so, and will thoroughly sanitise their hands and wear face masks during the distribution
Good ventilation, a one-way system, and hand sanitizing on entry and exit will continue
Social distancing and ventilation measures are being maintained for Junior Church sessions
The Test & Trace QR code remains for scanning in case of local outbreaks