In-person services are held at St Leonard's at 9.45am & 11am each Sunday
Live-streamed services and other events and activities continue through our facebook page and YouTube channel.
If you would like to attend St Leonard's in person, you will need to please register at stleonardslexden.eventbrite.co.uk and then follow a few guidelines around your visit.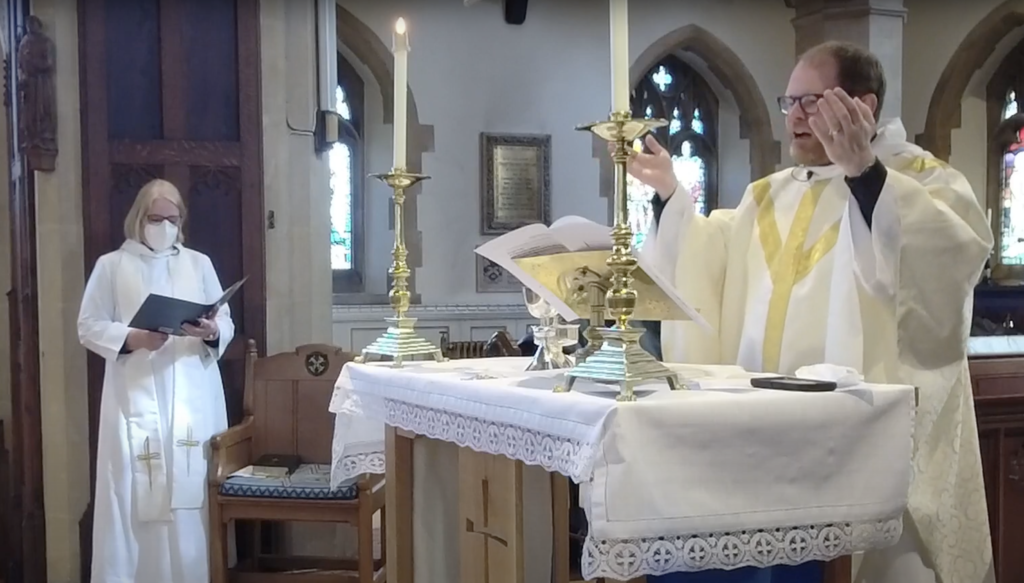 Those without access to the internet should contact our Parish Administrator by leaving a message on 07582 442682 before noon each Friday (Maundy Thursday during Holy Week). We expect some services to reach capacity before that time. To protect our capacity for those without the internet, we ask internet users to be sure to book through the EventBrite link.
To find details of what you need to do in order to join us, please read the information below carefully.
We are following the latest regulations regarding cleaning, hygiene, and social distancing, all of which impact what we are able to do at this time.
You can find our
risk assessment
here.
Times of services and other arrangements may need to change on a week by week basis, as we discover how things work. Keep an eye on our email newsletters, website and social media for updates.
There are a number of changes we've had to make to the worship space, to the content and shape of our services, and to our methods for welcoming and seating worshippers.
St Leonard's is usually open for individual private prayer from 1-3pm each Sunday.
WHEN IS WORSHIP HAPPENING?
Services with a limited capacity of 40 people usually take place at 9.45am and 11am on Sundays. These services are usually identical Parish Eucharists put together with a broad and mixed congregation in mind (including young people and families). The 9.45am service is usually live-streamed through Facebook.
WHAT DO I NEED TO DO IN ORDER TO ATTEND?
REGISTER BEFOREHAND
Our capacity is limited to 40 due to social distancing, so please make sure cancel your registration through the website if you cannot join us. Those without access to the internet can register by leaving a message for the Parish Administrator on 07582442682, and will usually need to register with the Parish Administrator by noon on Friday, subject to availability. Once our capacity limit of 40 is reached, stewards will ask people to return at a different time or on a different day.
PLAN TO ARRIVE AT THE RIGHT TIME AND LEAVE PROMPTLY
As social gatherings are not permitted in or around St Leonard's at this time, we ask you not to arrive too early and to leave promptly at the conclusion of the service. The church will be closed between services for cleaning.
USE THE TEST & TRACE QR CODE
If you can, please use the NHS App to scan the Test & Trace QR code on entry to St Leonard's. It's displayed by the door.
FACE COVERINGS
Visitors are required to wear a covering overing your mouth and nose for the duration of your time in St Leonard's. Any exemptions to this, must be according to the latest government regulations. A visor can be worn in addition to a mask, but is not a substitute for a mask.
WRAP UP WARM
Thorough ventilation is a key part of our risk assessment to reduce risk in the building.
WHO MAY ATTEND?
Anyone who is not showing symptoms associated with COVID-19
Anyone who is not self-isolating due to a possible or confirmed case of COVID-19 in their household, or because they have been requested to so by NHS Test & Trace or another official body
Those who fall within the "clinically extremely vulnerable" group are encouraged to enjoy worship through live-stream or broadcast at home and not attend church, though the final decision is theirs.
WHAT HAPPENS WHEN I ARRIVE?
Enter through the North West (Lexden Road) door, which will be opened around 10 minutes before the beginning of each service.
There will be a queue along the path leading to the entrance, with 2 metre spaced markings on the floor to facilitate social-distancing.
You will be welcomed by a steward who will check your registration
Please do not enter the church until you are invited in by a steward
You will then need to sanitise your hands thoroughly at the sanitising station by the door.
A steward will then indicate where you should sit. A standard pew can accommodate three individuals, a couple from one household and an individual, or a household of 3 or more. Every other pew is cordoned off and should not be used.
WHAT WILL BE DIFFERENT ABOUT THE SERVICE?
In response to Government regulations we have made some alterations:
The service length has been shortened.
No congregational singing is permitted.
The words of the service will be projected on to a screen as books are not available. (Single-use large print orders of service will be provided for those who require them.)
The peace will not be shared physically.
The collection will not be taken physically – we ask you to make your offerings online (or by telephone to the parish administrator), if you can.
Special hygiene arrangements will be in place at the distribution of Holy Communion, which will be received in one kind (consecrated bread) into the hand only, at the bottom of the chancel steps.
WHAT HAPPENS AT THE END OF THE SERVICE?

Worshippers will need to leave the building and churchyard at the conclusion of the service without gathering for social time nor mixing with any other household.
There will be no refreshments for the time-being.
Please leave the church through the south east extension door (facing Church Lane) only.
WHAT WE HAVE DONE TO MAKE YOUR VISIT FOR WORSHIP SAFE
Following government and Church of England guidance and regulations we have completed a risk assessment (which can be read HERE) and introduced the following measures:
HYGIENE
There is a hand sanitiser station inside the entrance and exit doors of the church. Please ensure that you use this as you enter the building and leave.
ONE-WAY SYSTEM
For worship entry to the church will be via the North West door (facing Lexden Road). Please follow the floor markings within the church and eventually exit through the South East door of the church (facing Church Lane).

SOCIAL DISTANCING
Visitors should observe the floor markers. At all times please respect other people and maintain a 2m distance, except when sitting in a pew where a distance of 1.6m can be kept safely. We ask that the porch, church and entrance are kept completely clear of all obstructions including buggies and mobility scooters. This 1.6m social distance is permitted by the government regulations provided that 'risk mitigation' is in place. We have introduced the following risk mitigation methods:
Face-to-face seating is avoided
Non-essential social spaces have been closed
Ventilation has been improved by keeping the North West, South East, and Emergency exit doors, and internal double doors open at all times
Face coverings are required to be worn (with exemptions as detailed in the Government's regulations)
SEATING
In the nave, we have provided for seating on alternate pews with 1.6m between individuals. The majority of the pews can accommodate either:
Three individuals
A couple from one household and an individual
OR one household (if consisting of more than 2 people)
Small round mats have been positioned on each pew to indicate appropriate distancing for individuals. Please do not enter the cordoned-off pews. Kneelers and cushions are not available for use at this time.

CLEANING
The church is cleaned each week in accordance with the latest Government regulations. Shared surfaces (such as pew tops) will be cleaned between and after Sunday services.

EMERGENCY TOILETS
We ask that you only use the church toilets if you have no other option but to do so.
The toilets will be cleaned after the Sunday services.