Come and join us for Junior Church at 9:45am on Sunday mornings here at St. Leonard's! The 1st Sunday of the month is usually an all-age service, so we join the adults and worship together instead.
On the other Sundays mornings we gather in the Nicholls Room, providing the children with a chance to understand more about Jesus and grow in their own faith.It's a place where they can ask questions and learn how to put their faith into action during the week. We pray together, sing worship songs, learn a story from the Bible, and will often get creative to produce a craft that the children can take home with them. And before the service finishes, we join the adults for communion and tell them what we have been learning. We have a great time!
For those children aged between 0 and 3 years old we have a crèche provided too.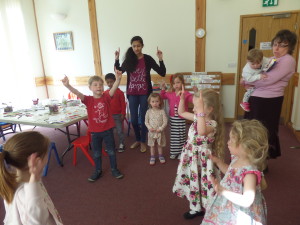 Whether you and your family are new to St Leonard's, or you come bounding through the church doors each week, we would love to have you with us in Junior Church! Have a look at our calendar below to see what is going on this term.
If you would like some more information, please contact our youth worker (youthworker@stleonardslexden.org.uk or 07582 442682), or Jacquie (01206) 760742 or jacquie@stleonardslexden.org.uk).
Thanks, we can't wait to see you!
Junior Church Calendar
Details of what is happening every month is published in the Monthly Magazine.